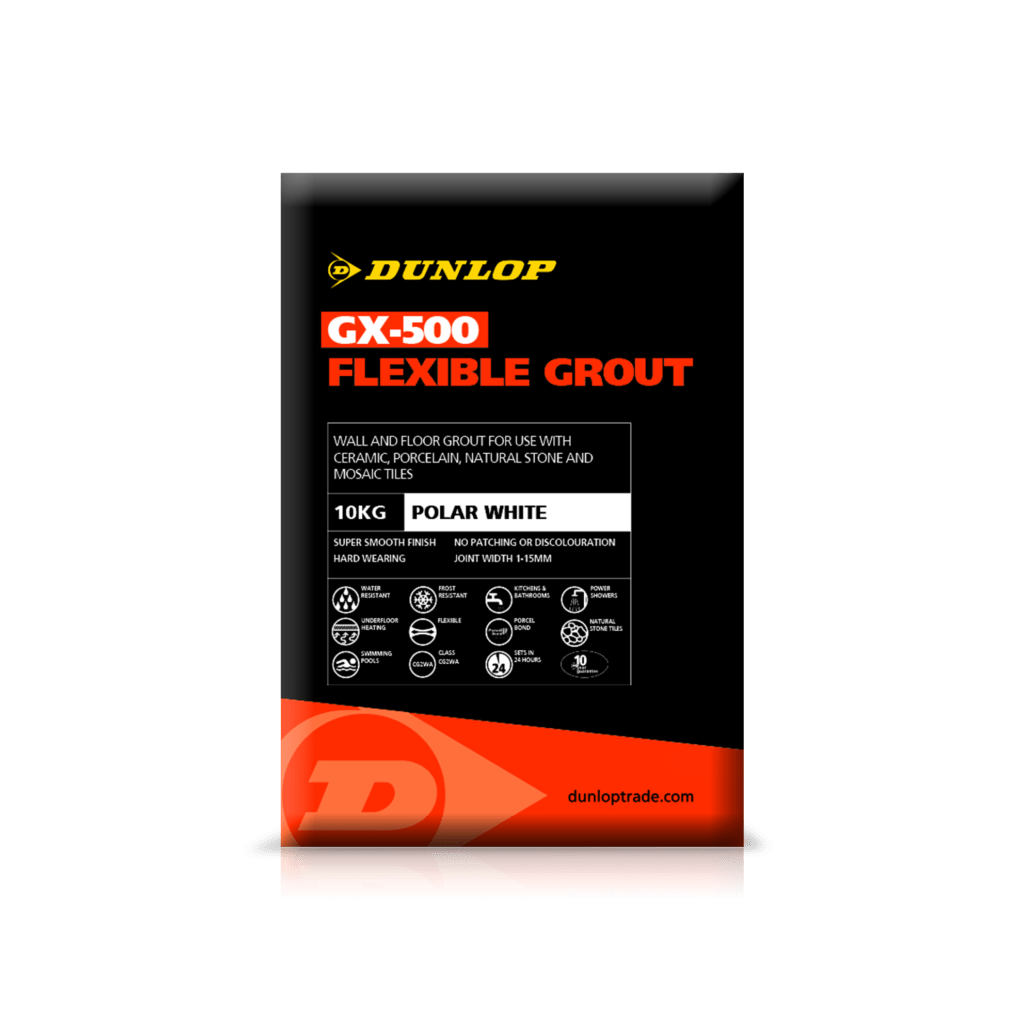 GX-500 FLEXIBLE GROUT
A flexible wall and floor grout available in eight colours for use with ceramic, porcelain, natural stone and mosaic tiles
Smooth but hardwearing finish
1-15mm Joint Widths
All tile types
Reduced efflorescence
Matching FX-90 Silicone Sealant
FEATURES

DUNLOP GX-500 FLEXIBLE GROUT is a water and frost-resistant powder-based grout suitable for use with both wall and floor tiles.  Ideal for grouting ceramic, porcelain, and mosaic tiles in interior and exterior locations including power showers (without body jets) and swimming pools.  The flexible nature of the product reduces the risk of cracking, leaving a super smooth but hard wearing finish without patchiness or surface discolouration.  Also suitable for use with brick slips, refer to Technical Department for advice.For the perfect finish use with DUNLOP FX-90 SILICONE SEALANT, available in matching colours.DOWNLOAD COLOUR CHART
Polar White – 2.5kg & 10kg
Jasmine Cream – 2.5kg & 10kg
Harvest Beige – 2.5kg & 10kg
Sahara Sand – 2.5kg & 10kg
Conker Brown – 2.5kg & 10kg
Mist Grey – 2.5kg & 10kg
Graphite Grey – 2.5kg & 10kg
Liquorice Black – 2.5kg & 10kg
Varies according to tile size and joint width (based on 10kg bag):
Tile Size                                  Joint Width                  Approx. Coverage
200 x 300 x 7mm                     2mm                           0.20 kg/m2
300 x 600 x 10mm                   5mm                           0.42 kg/m2
Customer Testimonial
I switched to Dunlop after being let down by another supplier. Very pleasantly surprised with the results! Will definitely use Dunlop products in the future!
Andy W